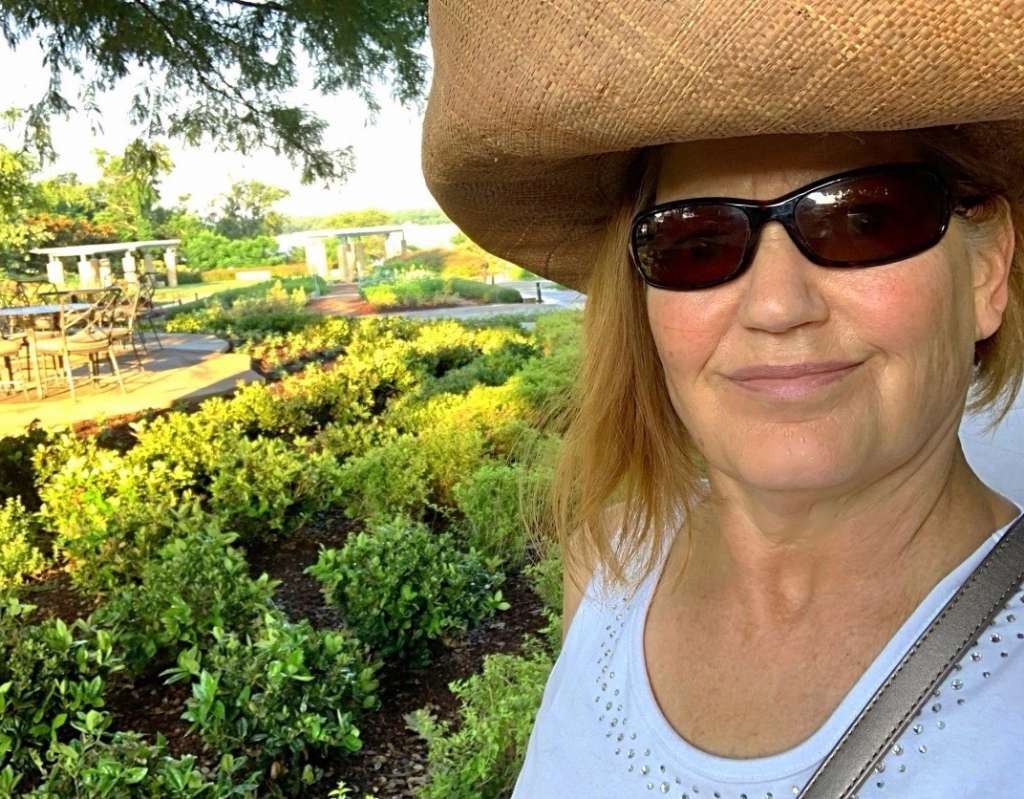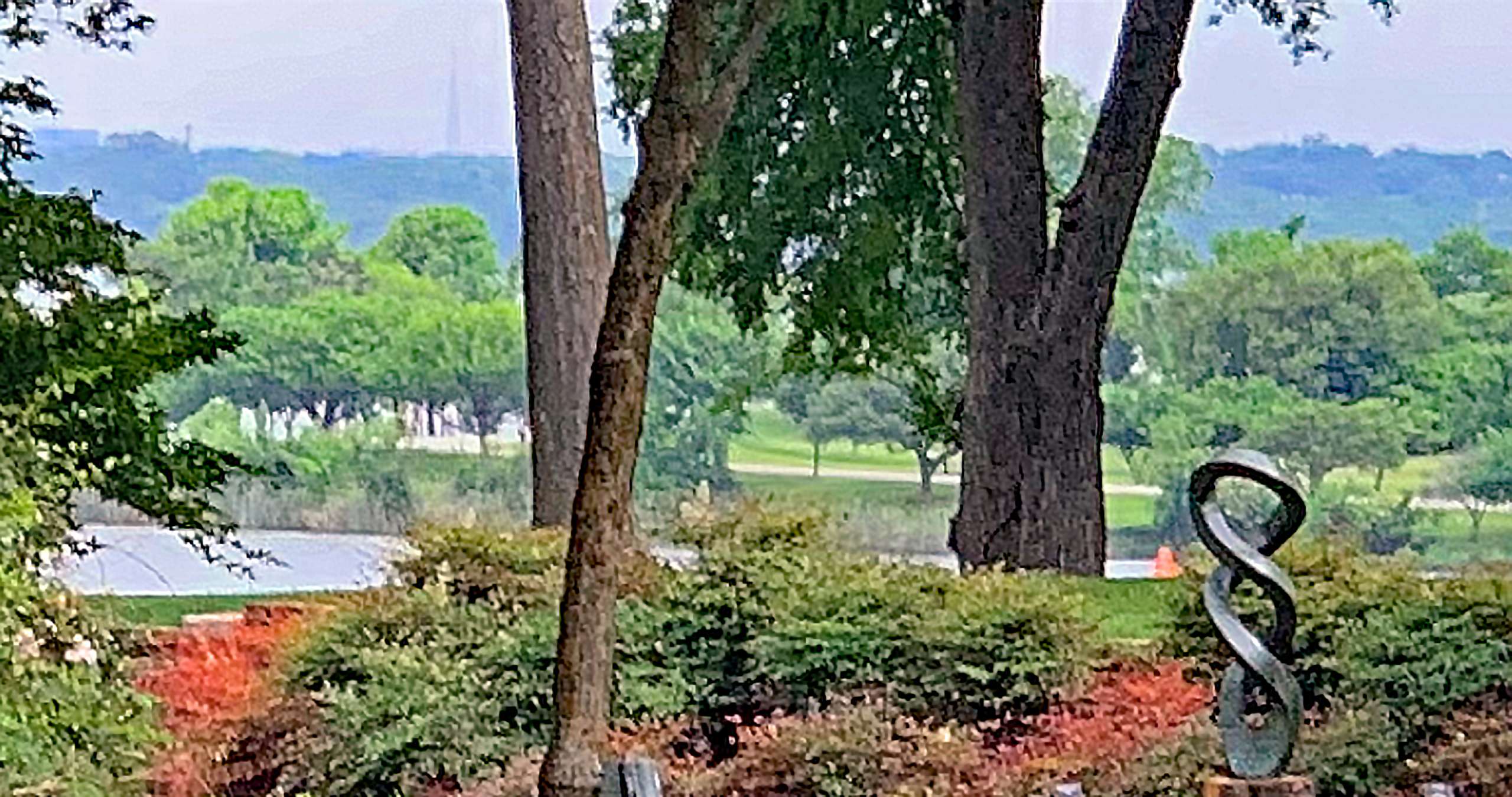 Infinity a double helix spiraling piece rises before the wooded shores of White Rock Lake in Dallas, Texas.
If you're like me, Travel is your oxygen. So when 2020 shut most of our options down, it put a spotlight on experiencing the world without hopping on a plane.
The prospect of adventure in exploring beauty is a welcome siren. As happy wanderers, ideas tumble and play in our imagination at the same time. The pull of wonder and mystery vie for our attention.
What a delight I discovered right in Dallas! This cosmopolitan city where I live has grown its Reputation for arts and culture offerings. Even so, finding a modern African immersion came as  a welcome surprise. Nestled in the heart of Dallas, adjacent to our beautiful White Rock Lake, a spectacular outdoor exhibition visiting briefly from Zimbabwe, Africa!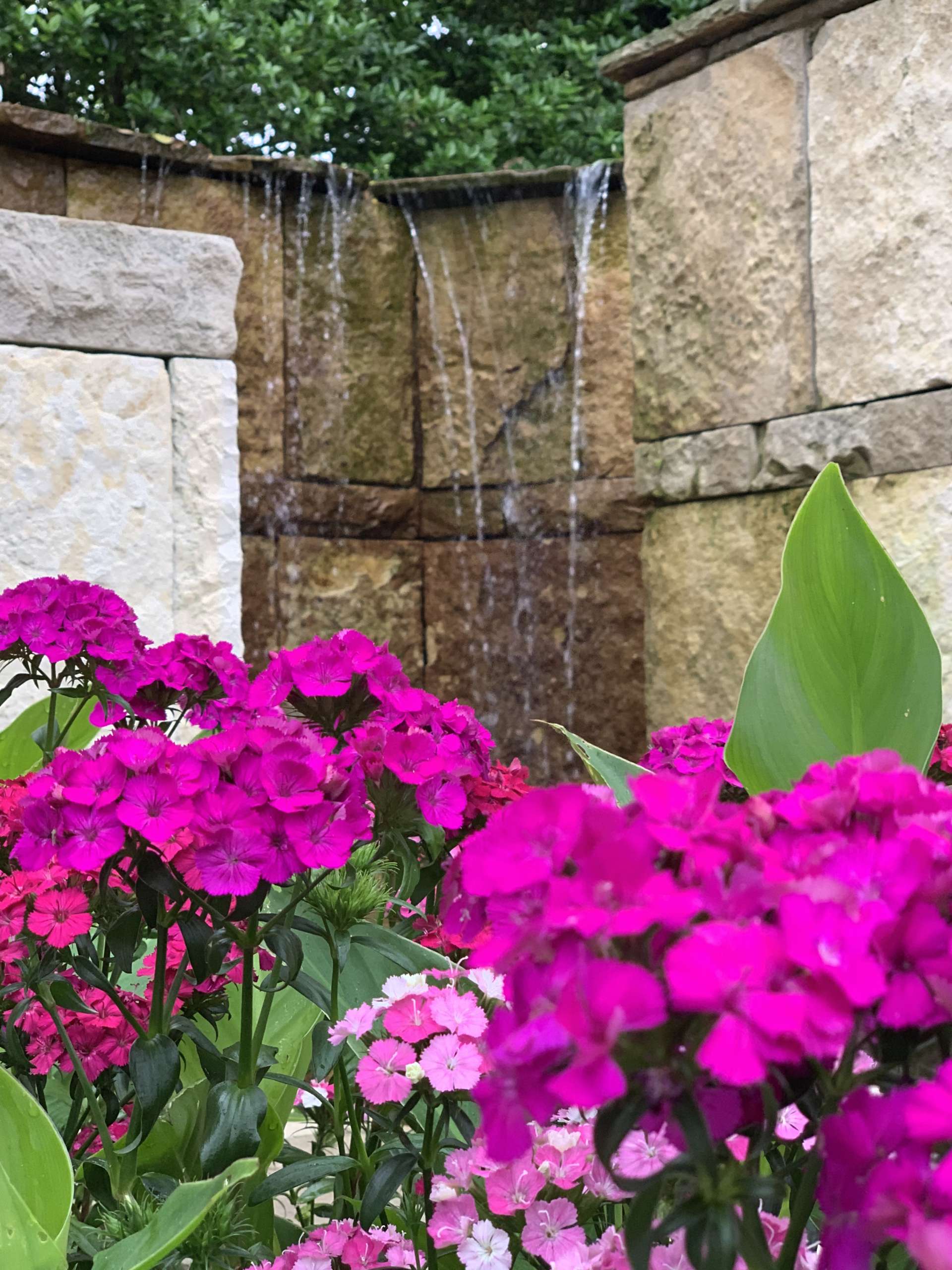 Approaching the entry, lush fuchsia blooms grace this fountain.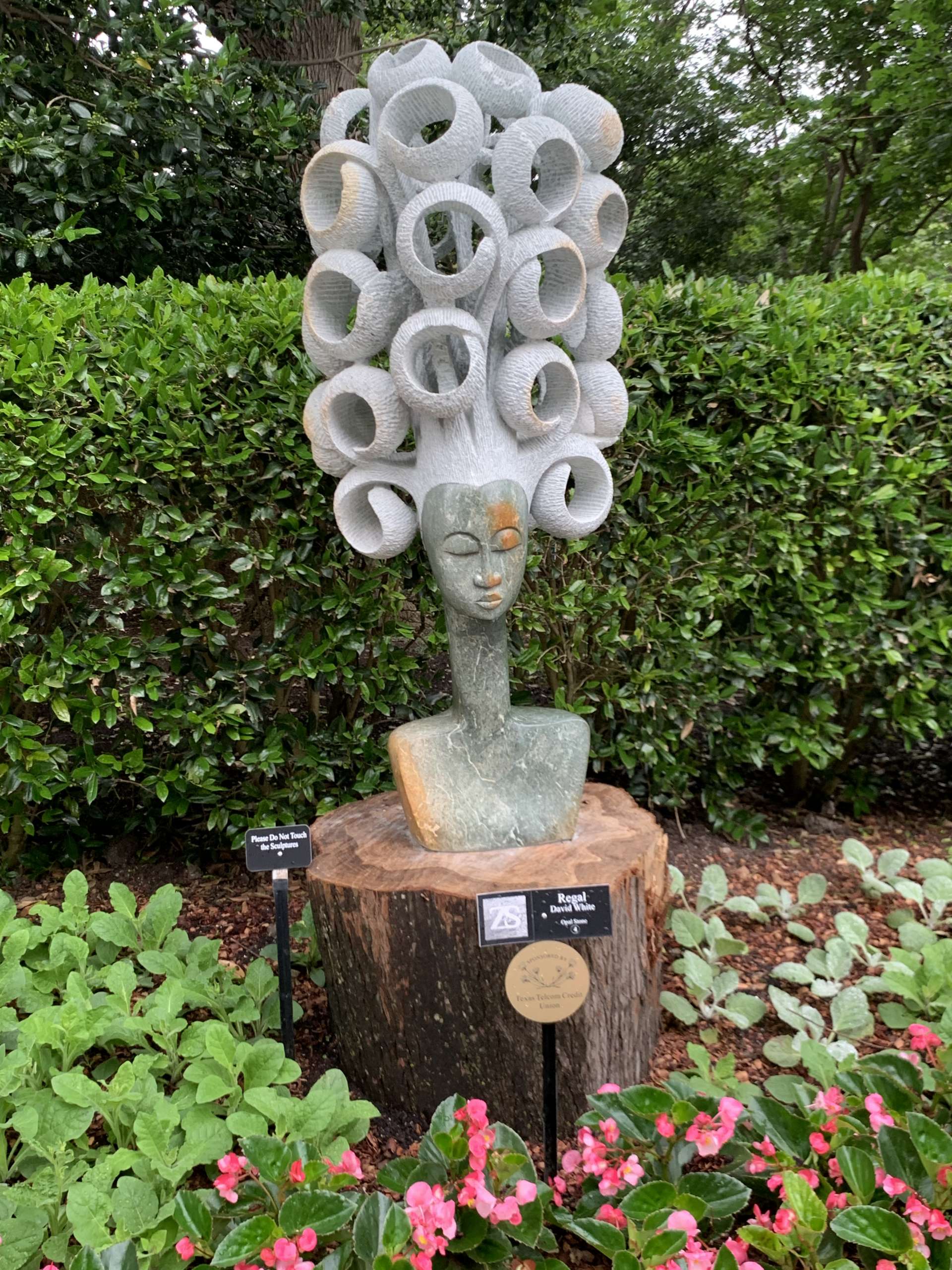 Serene Sirene – I imagine her dreams are contained Within the spaces of rising curls…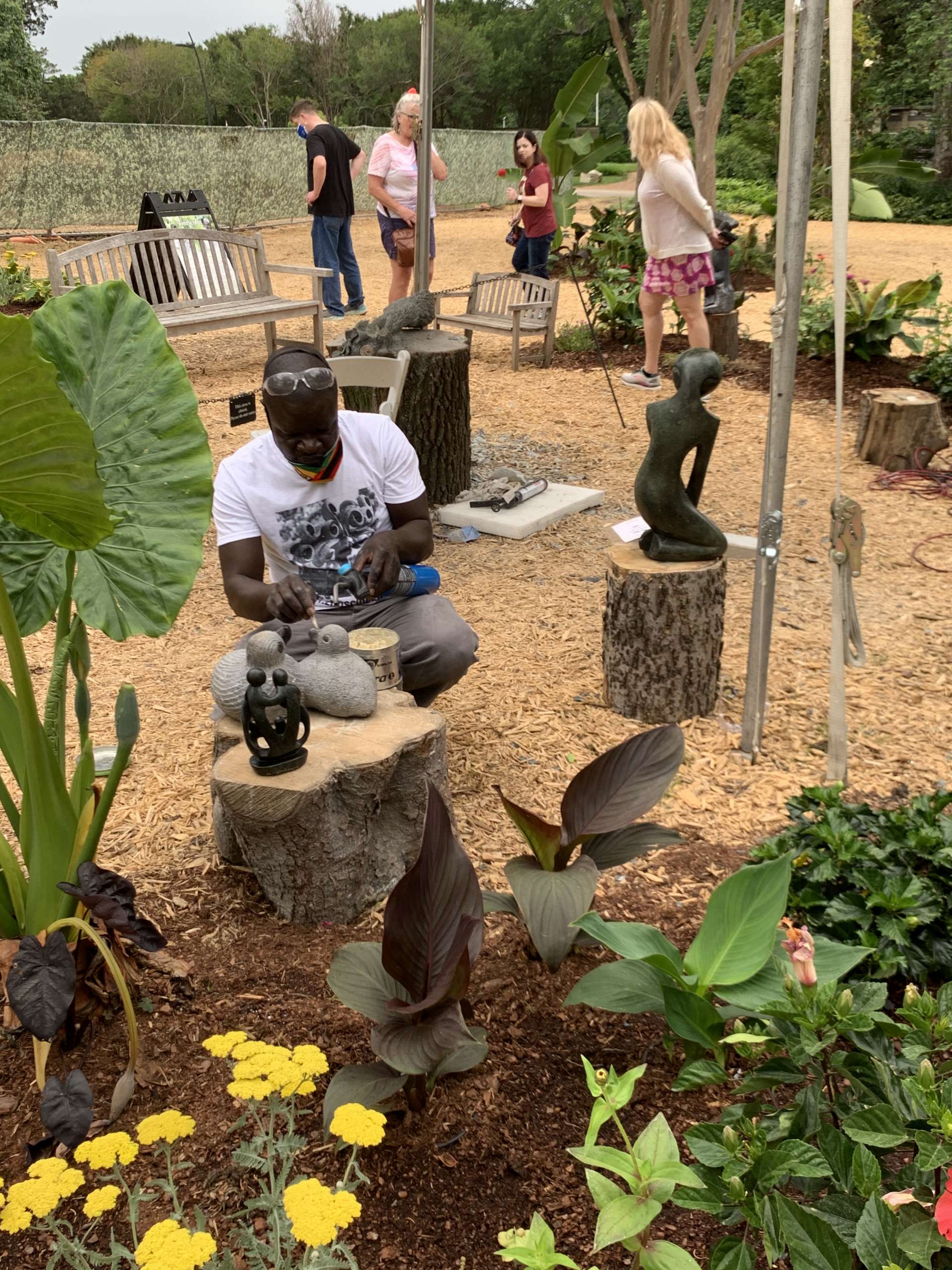 One of the sculptors at work. Intent on every detail, he uses molten wax to achieve a glossy black finish.
The title – "The Second Annual Zim Sculpt" at the Dallas Arboretum tripped me up right away. Wait what? – how is this the 'Second' one? Where was I last year that I missed this?
Then came my ah-ha. It was the Orlando "souvenir" I brought home: a broken left shoulder.  (But that's another story!) Unlike much of the world…  I had an "extra" reason to stay at home.
The "ZimSculpt" exhibit features well over 100 remarkable stone sculptures. Many are figural and realistic, others are abstract. All are expertly crafted. The stone types are also a wonder! Being the daughter of a geophysicist – and having lived and traveled in Africa, "spring rock" "leopard stone" and "opal rock" were new to me.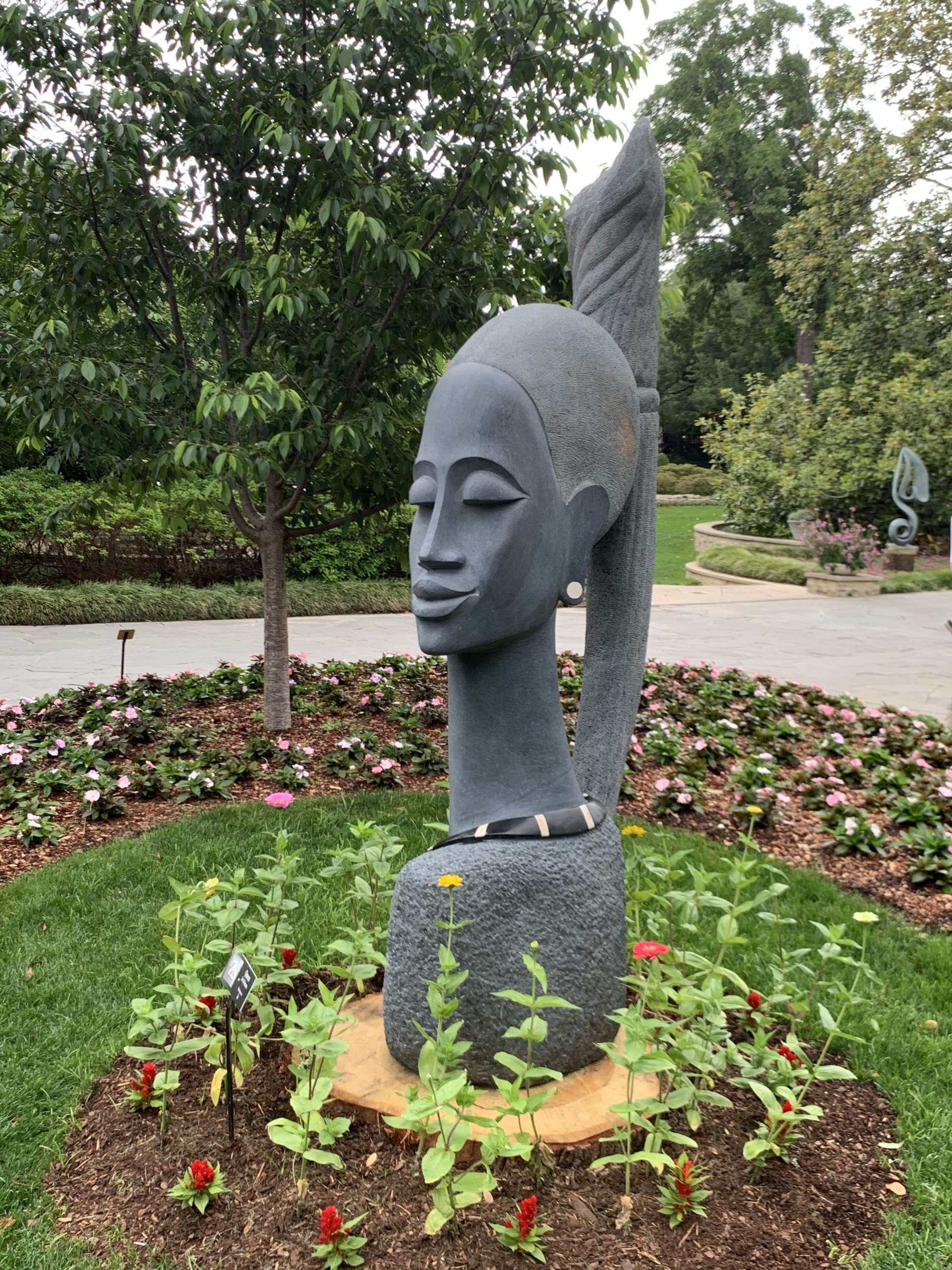 Wistful gazing beauty, with inlaid contrasting necklace.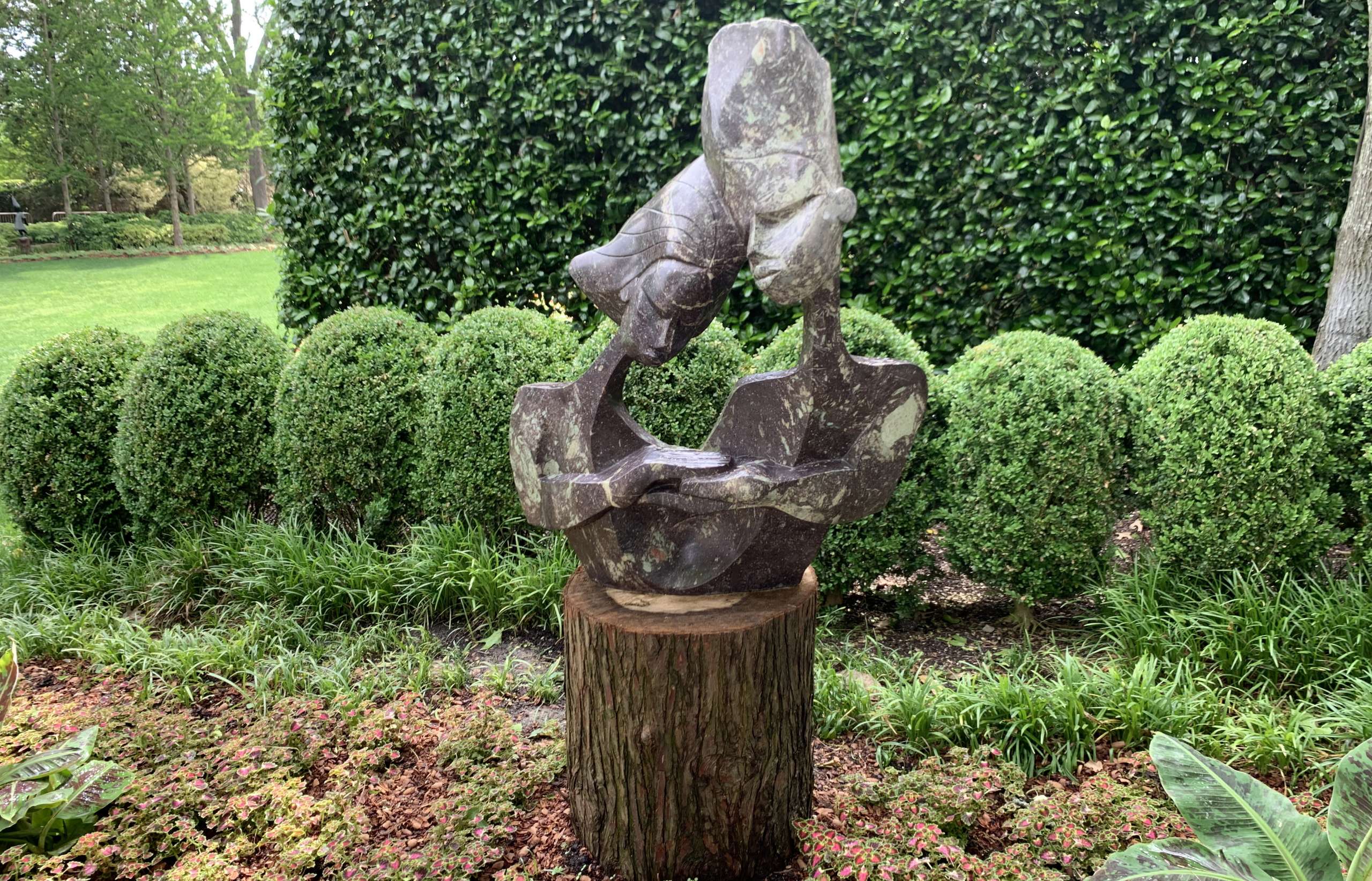 Lovers embrace in this sweeping, loop of leopard stone. Cut from one stone, the expression is one of tender passion in heart-mind coherence.
I've always felt a particular attraction to sculpture and gardens, so the combination can be quite intoxicating.
This installation gives the impression that each work has been designed for the exact place as if it was born there, never to leave.
I am so moved when great care is taken to maximize the context, views and placement of sculpture. Each piece is accorded its due respect and this is exactly the case here.
Adding to the excitement is the chance to own one (or more!) works. They're most reasonably priced. Many are already sold, and plenty are available for purchase. Next to the sculpting "rings" are pavilions tents who have works in progress in the gardens.
Especially delightful is the chance to meet two Zimbabwean sculptors in person. They gladly take a break from their tasks to answer questions. Their intense focus shows in the beauty and detail in each piece. Sculpting, which I also enjoy, carries a sense of ease and freedom.
Following your intuition and taking joy in the process. As observers watching a new creation emerge, bit by bit, inspires us.
When each piece, finished, is shown to its greatest advantage, you feel great love – from every angle!
Fish performing gymnastics in this light, happy school. This, bears reminding that it is cut from one stone.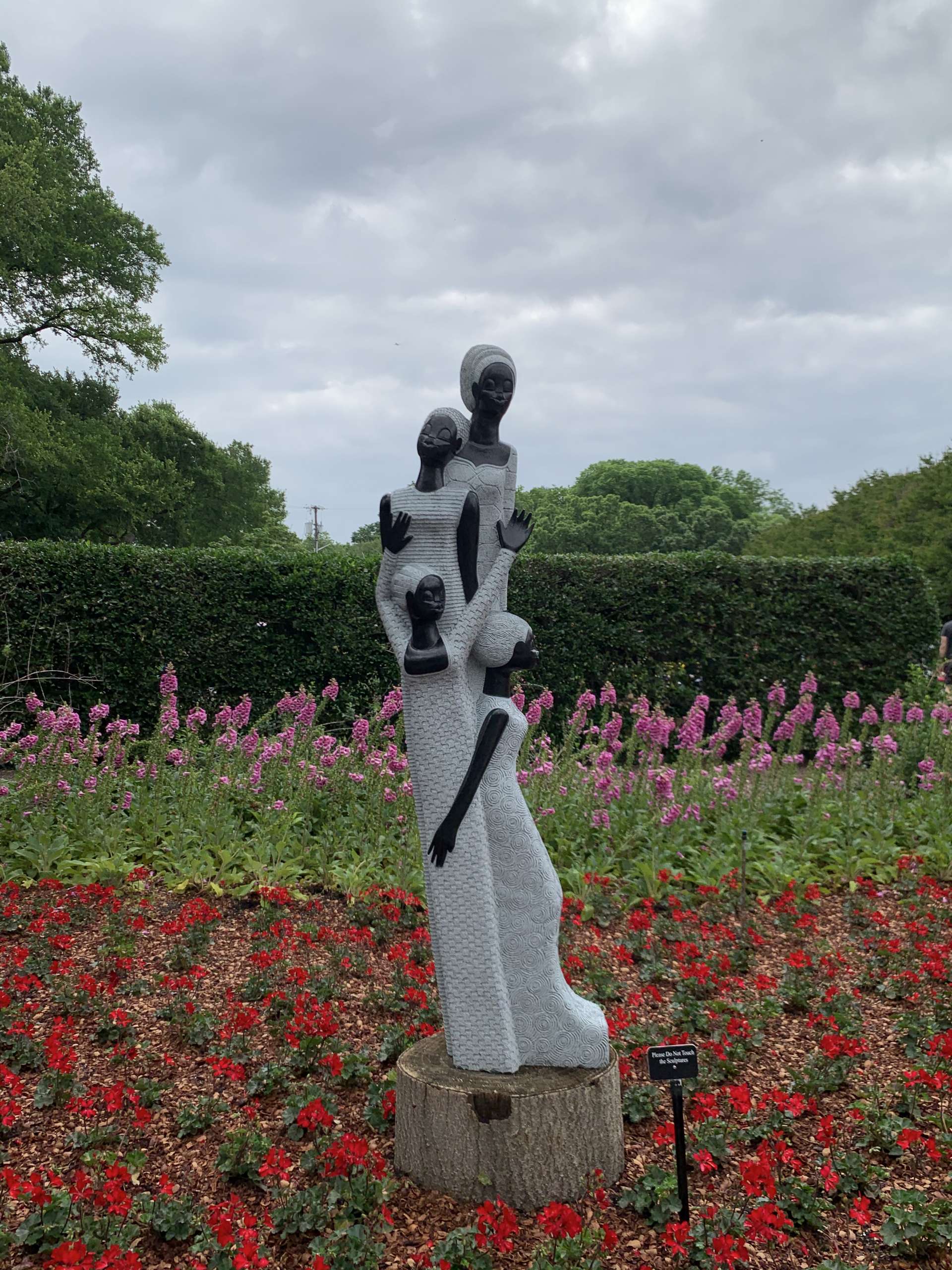 Elegant composition conveying love, respect and caring. The columnar figures complement the expanse of colorful ribbons of flowers.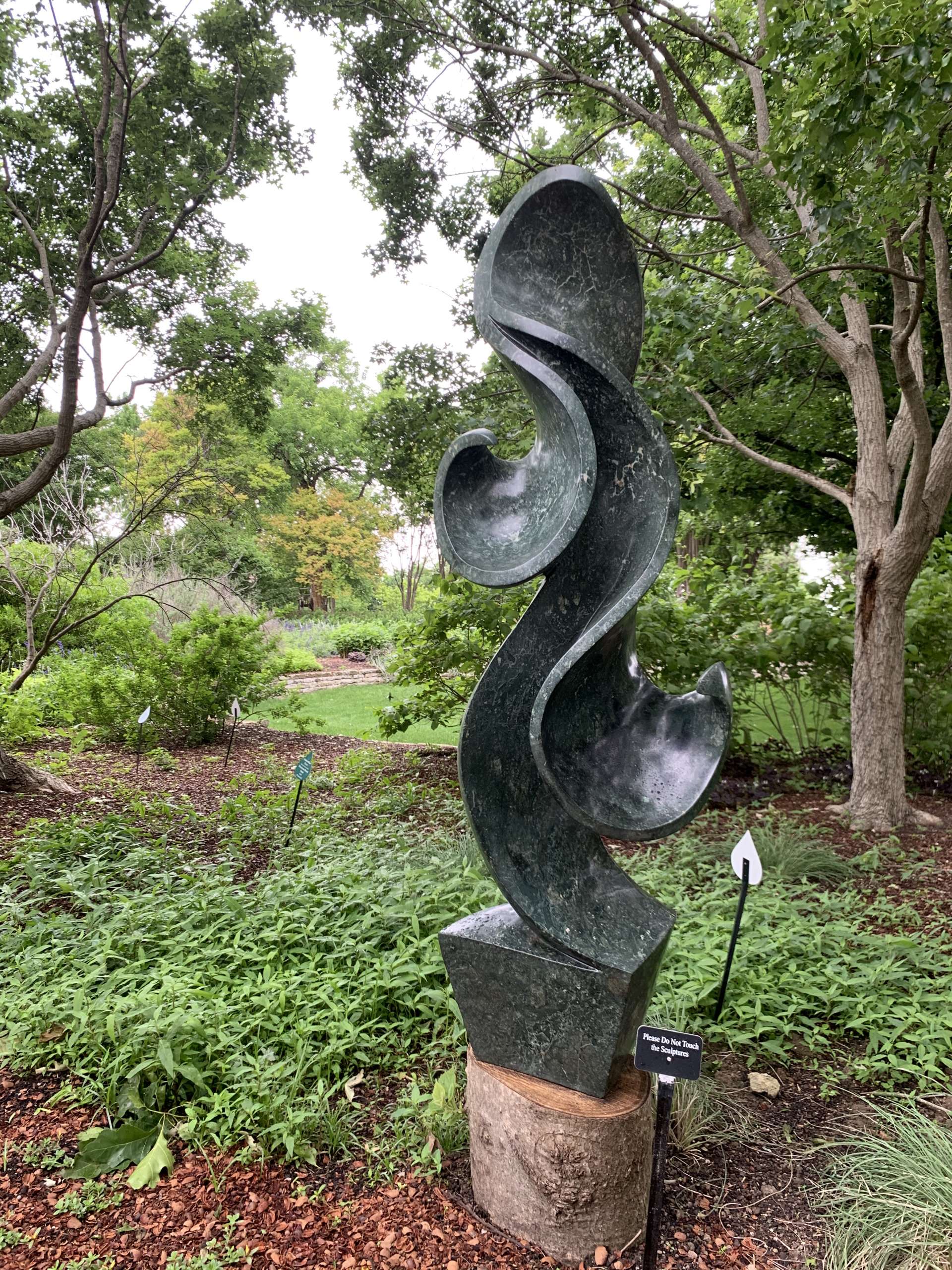 This modern abstract piece carries grace and light that lets us implant our own meaning: is it a girl, a curl, or bird or all of these and more? You may see differently.
Last week, I took myself halfway around the world and back in a few hours, without leaving Dallas. It appeals on so many levels, that anyone who is fortunate to visit it will doubtless find something to rave about. If you're curious to learn more about ZimSculpt, go here.
Even before the pandemic put the brakes on travel, I've found ways to connect to the world right at home. Living in large cities makes it somewhat easier. Museums connect us through wonderful ancient and modern art. So do books, TV, film restaurants and all the arts. I prefer a mix of all, with an emphasis on the "giddy up" as we Texans say of physically going to a place.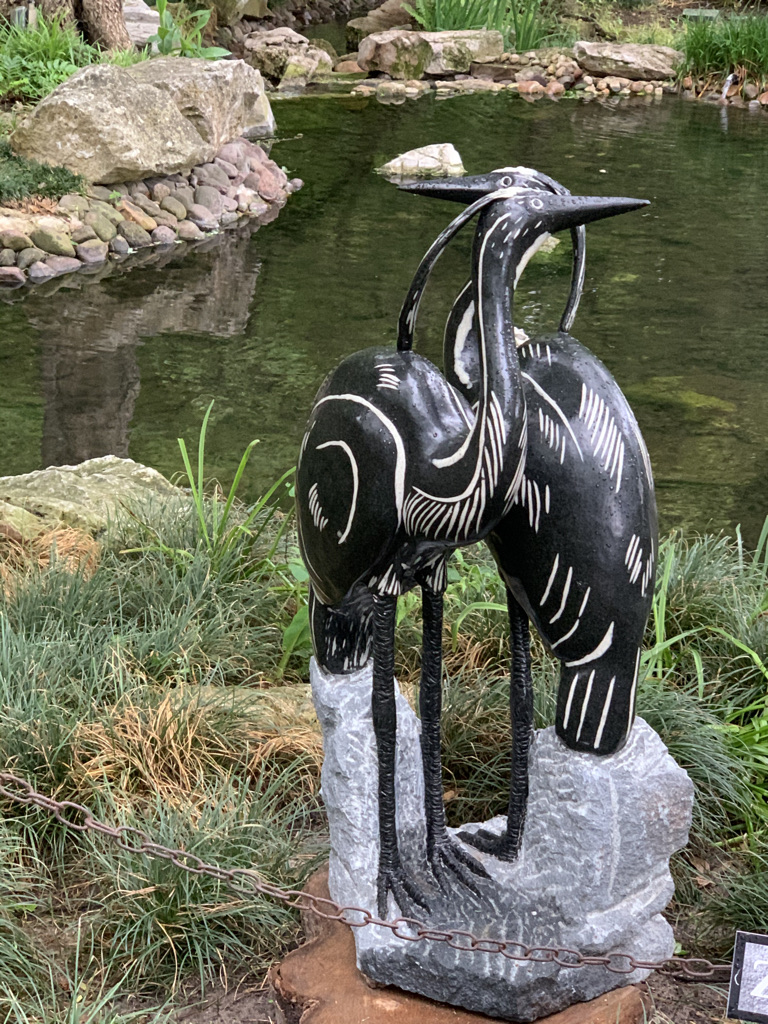 A pair of lovely cranes stands before a pond.
This really makes me wonder: What are some of your favorite ways to experience the world – right where you live? And where would you love to travel next?
Please share your creative adventures and reply. I'd love reading your comments and finding out what resonates with you! As ever, if you enjoy this post, please Subscribe!
Wanderlust Tip:
Take yourself to places and exhibits that you'd normally take your out-of-town relatives and guests. Then while you're in each place, FaceTime them and send them photos. Also, you may like to take a break and sit to drink a coffee or tea while you're enjoying your sculpture safari or museum visit and a lovely phone conversation with them.