When You Least Expect It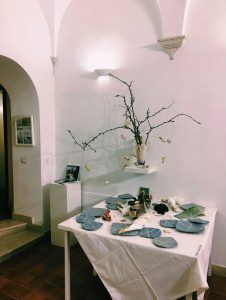 Barefoot. Standing with the hose on, pouring out cool water to make a nice, squishy mud puddle. Our very own clay quarry. I remember laying in the mud in my backyard, making mud pies with my younger brother. The corner was contained by a railroad tie. "We can put them here to dry!"it was joyful, pure genius. Arms, legs, tummies, faces barely showed through the clay we proudly wore. We grinned exultantly. Mud people. Happy and free.
Five weeks ago, I return to play with clay. II came with a mission, to bend, or not, the clay to my will. I came with intentions that I'd written in my application for the artist residency in Rome, Italy. I felt pressure. I exerted pressure on the clay, rolling it into thin sheets that I pressed into shape.
In between pressings, the leftovers found me: absentmindedly, in a daydream state, I gently formed globs. Weird, what-the-heck globs. Globs from under the sea, perhaps. And they were surely detestable failings. Onto the shelf. Into the kiln. Next round of mud pies – Coming up!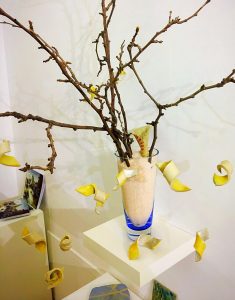 About two weeks in,, I became interested in the technique of paper resist. Similar to wax resist in batik making, this seemed easy and fun. Why not make dinnerware? It occurred to me that I'd been window shopping for some time. Perché no?/Why not? Underglaze for the leathery clay went down over angled and overlapping paper strips.
Into the kiln.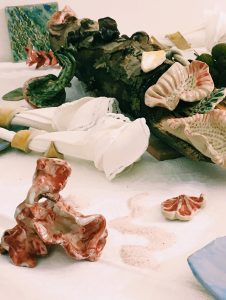 Five weeks goes very fast with underglazes, kilns, glazes and final kiln time. It was a rich experience, and humbling. Thinking I was safely away from the perils of the wheel, I still had to attach bases to the underside of my plates. And this I accomplished, thankfully.
When I least expected it, the clay was teaching me, as it does all mud pie makers. It taught me about water, of ease and flow, of fun and spontaneity. Of mysteries in kiln heating, drying, and cooling that transform into a new thing. The essence of art involves abandoning the predictable. I surely succeeded in that. Funny that the unintended pieces are the ones I like best.. The clay speaks with the authority of an oracle. So I listen, and little by little, revel in each unfolding creative mystery…!