On my most recent visit to Italy, I'd found an apartment a block or so away from Piazza S. Maria Maggiore. Located quite near the Staztione Termini train station, it wasn't an area that I usually would choose, by personal preference. However, this time it just made sense as I was meeting friends and we were going to travel by train first to Arezzo, and later to Orvieto, returning to Rome in between.
In case you aren't aware, where there used to be a plethora of economical pensioni in Rome, those have vanished and in their place are myriad AirBnB options.
To access my apartment, I referred to my Notes on my phone. I'd written the reservation confirmation number, as well as the appropriate doorbell buzzer code, to get "buzzed in" from the street. Luckily, it wasn't raining, because I couldn't get the code to work. I kept trying, to no avail. Now, I was trying to be calm, and just then, someone came out of the door, so I stepped inside. It was a typical apartment building, with a rectangular foyer and elevator in the middle of a marble staircase. Although it was still morning, the inside was quite dark. I opened the elevator door and pulled my suitcases inside behind me. I punched the 4 button. That's the fifth floor in the U.S. In Italy, the street level is known as the Piano Terra/ Ground Floor, and the primo piano/first floor is naturally above that.
Arriving at my 'Hotel.' I rang the bell. Nothing. I waited. I rang again. I took my phone out and thought of looking for other accommodation. Next thing I knew, a young lady got off the elevator and unlocked the main door. My room wasn't quite ready, but the young lady let me stow my luggage and gave me a set of keys. No more waiting on the sidewalk, thank goodness.
My amiche/ friends and I had agreed to meet about 10am. I walked outside and trundled down to the Piazza S. Maria Maggiore. As usual, there were plenty of tourists, as well as the armed guards and a military tank. Seeing one another, we got in the queue to enter the basilica. As we neared the entry portal, we noticed a gentleman selling tickets for a tour of the crypt and interior chambers. We decided that would be interesting, and bought our tickets.
S. Maria Maggiore is a grand dame of a basilica, with marvelously patterned mosaic floors, and ornate décor throughout. Our guided tour took us upstairs to the balcony overlooking the piazza, into the papal chambers and down to the crypt which held treasures as well as very ancient frescos and samples of roofing tiles complete with the stamp of the producer, for quality control purposes.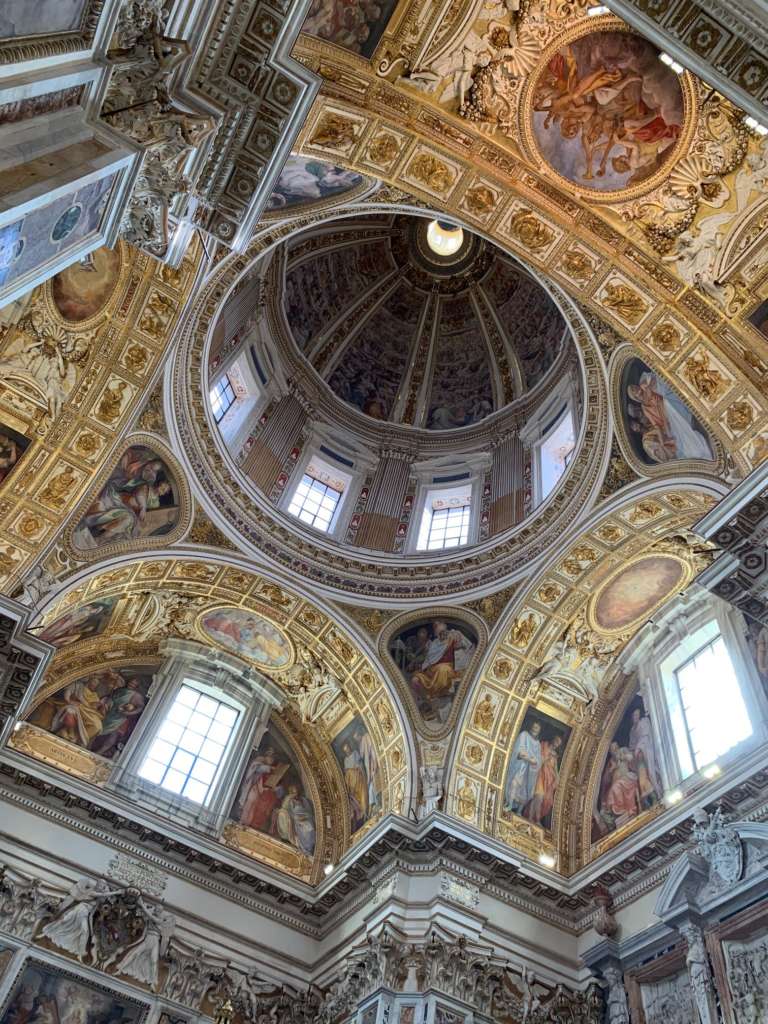 By the time we came out, we decided to go for lunch. Right across the street was a restaurant called simply, Casa Maria. The three of us went in and sat down. On a whim, I ordered a brandy, something that was on the menu as a house specialty. It really hit the spot. I noticed there was a dish of 'pesce spada o orata: swordfish or sea bream.' The best swordfish I've ever enjoyed I'd had in Rome, so that is what I ordered. What came out was not swordfish. It was then that I understood that what was to be understood on the menu was whichever fish was then available.
Our waiter was attentive to us. We all agreed that he bore a resemblance to a certain actor… Russell Crowe, perhaps? We all watched as he expertly dressed the fish. Now all I can tell you is that it was perfectly light and delicate in flavor. The best roasted potatoes ever. Even the specialty bread had us all in rapture. Without doubt this was one of the best meals I've ever enjoyed in Rome.
What to do if you think you might be going into a "tourist trap" place to eat? Look around at who's inside. If there are plenty there and people are happy, give it a try. You may just strike oro – white gold – with orata!