My Italy and Rome stays are forever changed! Early last November, I had no idea that I'd make two new friends and find a home in not just one, but two studios. Last autumn, I was busy creating ceramic pieces during my fabulous artist residency at the wonderful c.r.e.t.a. Rome studio. I had such fun working in and exploring the Jewish Ghetto in the heart of Rome. This neighborhood is nestled amid a snarl of winding streets, fascinating piazzas and enigmatic ruins.
The Via dei Delfini ("Street of Dolphins") wriggles just like a slippery dolphin and is so secluded, it is easy to miss. Each time I walked along it, I'd peer through the portals of hundreds years old structures. Quizzical spaces cradled newly birthed modern metal sculptures and bold, bright paintings. A hidden arts haven.
One particular storefront caught my eye, perhaps because so much seemed hidden from view. It was mysterious. The storefront, an elegant sandblasted glass entry, was set into an attractive, shallow arched opening. The only clue: a spiral design and the name, Spazio Pilates etched on it. Though I couldn't see inside and knew nothing else about it, I was intrigued.
You know how sometimes it seems like you are just on a different timed orbit and you swing by and miss, time and time again? One time I tried the door handle which, of course, was locked. Another time I hurried by and scanned a few ladies gathered in front, at a time when I simply couldn't stop. Why did this Pilates studio call me so?
I had a sense that it was different somehow. I'd taken mat Pilates classes a few times before and they'd been challenging and pretty much straight forward. This place didn't seem like one of those kinds of places. There was an inner elegance that somehow just eked out.
After a day of playing with the clay, I crossed the Tiber, taking in the view of the night lights and reflections, hop-scotching my way over rain puddles to return to my apartment in the lively neighborhood of Trastevere. I wanted to return to a nearby area that I was familiar with from having lived there as a student in high school: Piazza S. Cosimato. It had rained earlier and though it had stopped, there was a damp chill lingering. I wrapped myself in my fashion-forward, indigo, full length, Asian-inspired coat and set out. I'd bought it in a small boutique in NYC's East Village eons ago… Besides blocking wind, rain, and keeping me warm, it looks super posh. I always get compliments on it. In Rome, you'll never go wrong by dressing well!
As I walked quickly, my thoughts went to my memories of my "hood." During the daytime, the piazza hosts weekly markets of fresh local produce and essentials. Students and residents, moms with strollers, elderly gentlemen walking their dogs – all come through here. It is a true community gathering place where people stop to chat. At night, the restaurants fill with locals and visitors. What would I find that was new, or the same, or reinvented?
I quickly found a row of restaurants, followed my hunch to enter Ai Spaghettari. Besides great ambiance and being filled with guests – always a good sign – it delivered! I savored a hearty minestrone before the Roman classic: spaghetti allacarbonara. I sat at a perimeter table facing the interior. I was happy to be in this warm, cheery place.
I couldn't help noticing the couple in the corner next to me. He was doing ink sketches of the smiling, radiant young lady sitting across from him. She was dressed very fashionably and looked like she could be a model. I stole a sideways glance or two, as he tore off one sketch and began another. Suddenly, she turned to me and nodding, asked me which sketch I preferred. She was so beautiful, I'm not sure any sketch could've captured her radiance
I was surprised and happy to meet this young lady. Our conversation was so delightful, we swapped contact information. We had a few things in common: fashion, the arts, Rome and she lived in an apartment on the same street as mine, in the next block.
A few days passed, then I received a text from her. Would I like to join her for a Pilates class? Naturally, I texted yes. She then suggested we meet at an easy point nearby, because it is "tricky to find."
Could it possibly be…? You'll guess what happened next: it was the very place that had captured my imagination – just a few doors away from c.r.e.t.a. Rome. That was just the beginning.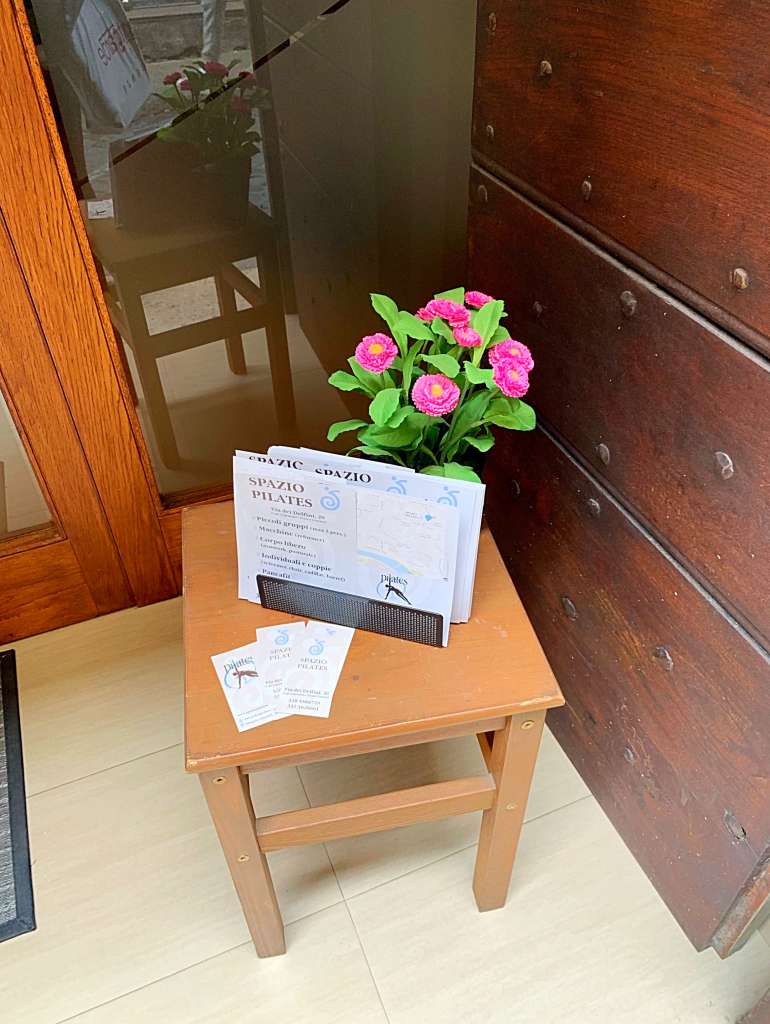 From the moment I stepped inside Spazio Pilates, I sensed that I was in for a wonderful experience. And I still did not know WHAT. What it is, for me, is the most delightful exercise class I've ever been in In. My. Life. It transported me to my Ballet practices from when I was twelve and thirteen years old – and surpasses those wonderful classes.
Rita Candeloro, caring, attentive and fabulously fit insegnante/teacher, keeps me and all her students in constant motion. The studio is small, yet spacious and serene. The lighting is soft and there is a great sense of serenity and spirit there. Rita calls out and occasionally snaps her fingers to time each movement. With calm and grace, she is guided and helps small groups of women. Our fluid movements are accompanied by wonderful music. Rita conducts us like a maestra, coaxing our best from us with loving guidance: "Prendi l'aria… e buttafuori. Prendi l'aria… e butta fuori."/literally:"Take in the air and throw it away."
This is no "Boot Camp" style class. Rita's classes transcend the stereotypical workout. Rather, this wonderful and knowledgeable dance professional creates an experience which reveres our bodies as fine instruments. So enchanted, we mold ourselves and I am the happiest of students! So it was a great pleasure to return for more classes a few weeks ago. I am smitten and cannot wait to return for more classes. Grazie Mille/ A Thousand Thanks Rita!
I find such gifts when traveling, by maintaining and discovering self-care practices while having great fun! It is such a joy to make two new friends in Rome, and to connect with a new community thanks to serendipity! In Spazio Pilates, I found uno studio veramente straordinario/ a truly extraordinary studio!
Would you love to exercise in a gorgeous place like this? Let's go and explore more of the fascinating Jewish Ghetto as well. Vieni!/Come with me… this autumn: October 2019!