Had I gone pazzo/crazy? I could hear the voices of tourists expressing their less than favorable opinions of Italian drivers as I fastened my helmet. Between my experience and genuine joy of adventure, those flimsy objections quickly vanished.
What could be more Roman, really? "When in Rome" should signal, "Ride a Vespa!" It
had been great fun as a teenager in Rome. Even in the jungles of Sumatra, Indonesia, I'd ridden on the back of my mother's motorcycle. "Motorcycle Marion." She'd laugh if she could hear that moniker. Her heavenly view likely keeps her highly amused and I think she was right there with me.
I'd signed up for a 3 hour giro/spin. It was a perfectly clear afternoon. We met outside my creta Rome studio, by Piazza Campitelli, near the Theater of Marcellus. I'd stored my jacket inside the seat compartment and assured Fabio that I was quite comfortable. Once my feet were securely set, away we went!
First pass? Only the largest single landmark in Rome! We curled around the front of the Victor Emanuel monument, its stepped base and angel topped columns gleaming in the sun. The Tomb of the Unknown Soldier is here, as well as the enormous equestrian statue to the father of the nation, for whom the monument is named.
Shooting through the strade, we wound our way through the Monti neighborhood. I love
this area with vine covered facades and green garlands lushly swagging overhead. As we sped past the Scalinata Napolean, I guessed our first destination: Piazza di S. Pietro in Vincoli/St. Peter in Chains. As luck would have it, the church was closed for yet another hour.
Nevertheless, the facades of the basilica and the adjacent university – the first in Rome – were glowing with amber sunlight. In truth, on a previous trip I'd been inside the basilica and marveled at Michelangelo's Moses statue.There's always so much to experience in Rome, so much being excavated and restored, that one simply must expect and appreciate the unexpected closings, scaffolded facades or fountains, and random sciopero/strike as part of a deep culture that offers world treasures of every size and kind to enjoy every day. While one or two disappointments may occur during a visit to this ageless city, take a cue from the Romans: be unfazed. These are actually invitations to say, "I'll save it for the next trip," because you never see it all, anyway…
Always careful, even weaving in between stopped cars, Fabio (not his real name) and I discussed many points along the way. Passing east of the Colosseum, we climbed the Monte Celio/Caelian Hill – one of the seven original hills of Rome. As we entered the amber glow of piazza forecourt of the Basilica dei SS. Giovanni e Paolo/Saints John and Paul. I was so surprised and delighted as this was a place I'd only glimpsed once before. Fabio chose well! There are ancient roman rooms that have been excavated underneath, including a vivarium or holding area for animas to be used at the Colosseum. The grounds also contain beautiful gardens here that I hope to explore on my next visit…
.
Who could pass up a ride along the iconic Via Appia Antica? Heading south from the Circus Maximus, we passed gorgeous estates en route to the Porta S. Sebastiano. I found it fascinating to learn that in ancient times, people who died were customarily buried at the side of the road. It was the Christians who introduced the cemetery to cities.
Via Appia Antica
We passed by two gorgeous cemeteries: the Non-Catholic Cemetery and the British War Memorial Cemetery next to the … Pyramid of Cestius, a tomb of Gaius Cestius, a wealthy attorney.
Onward! Close by, we came alongside the Baths of Caracalla. I hopped off the Vespa to get a closer look at the ongoing scavi/ archeological digs. The iconic Roman baths were so novel, foreigner were awe-struck. Men and women mixed freely. From the Calderium (heated bath) to the Frigidarium (cold bath) to the Tepidarium (tepid bath), the baths had it All! This was luxe living beyond imagination!
Baths of Caracalla
Zipping southward, we visited the street art scenes in a neighborhood chock full of murals, passing the "Iron Colosseum" and the original Eataly foodie destination. At the site of an ancient market, Fabio explained about the manmade hill made of chucked, broken shards from oil-filledl terra cotta urns. Colle Testaccio, more recently was discovered to retain the cool, constant earth temperature, making it an ideal summer afternoon destination.
Vrooming through the narrow streets in my neighborhood, Fabio stopped at a tiny restaurant in Trastevere. Funny, it was a place that had caught my eye several times before on my daily jaunts. Little did I know then that I'd be hopping off a vespa to stop in for a bit of traditional Roman fare. Trapizzini is similar to a calzone cut in half, but not exactly. Following Fabio's recommendation, I opted to try his favorite: tongue! The delicately flavored, thin slices were barely visible in the emerald green, thick sauce of basil and parsley that gave it a really zesty and healthy kick. That, plus a delicious craft beer made this the perfect pick-me-up afternoon treat!
Trapizzini
Exiting through Piazza Trilussa, we visited a completely new area to me. The Via Niccolò Piccolomini affords an amazing optical illusion. The beautiful tree-lined avenue perfectly frames the dome of St. Peter's. From far away, the dome appears absolutely ginormous – filling the field of view. As we continued straight, my eyes fixed on it, we arrived at an overlook. The trick? Although nearer than before, the dome has "shrunk!" Nonetheless, the view is spectacular. Whether it was Fabio's great timing or divinely ordained, as I stood at the edge of the overlook, tramonto/sunset arrived and the lights came on at St. Peter's. Absolutely enchanting!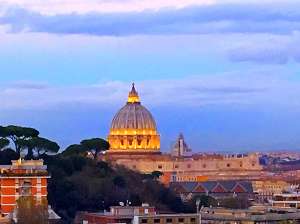 Overlook with St. Peter's Basilica
The scenes from this wonderful tour keep playing in my mind. When you know what you like, decisions are easy to make! If riding on a Vespa around Rome sounds a little scary, take it from me: it is quite safe and Super Fun!